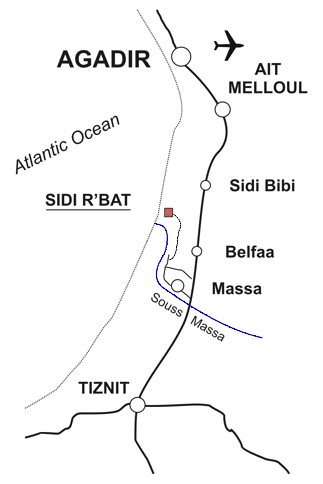 .
How to get there:
Sidi R'bat is located some 50 kms south of Agadir in the direction of Tiznit.
After around 40 kms, you leave the road to Tiznit a few kilometres past the village of Belfaa and head towards Massa. From there Sidi R'bat is signposted. The  road (completely tarmaced since October 2011) leads out of Massa as far as a sign pointing to "Ksar Massa" . Follow the signs to "Ksar Massa" and once you have passed through the village of Sidi R'bat and can see the sea, on the left you will see "LA DUNE".
A visit to "LA DUNE" is a must for all those who are looking for more than just mainstream Moroccan tourism. It is precisely these secret, hidden-away places which really give an individual trip to the south of Morocco its charm.
---
.